It's fair to say that the modern-day workforce might be the most multi-generational it's ever been. People are opting to work for longer whilst young individuals are introduced into full-time work with increased support. As a result, employee demographics are varied, with the personnel of a business likely to range from Generation Z right through to Baby Boomers.
For years, business leaders have ensured that employee engagement strategies and internal policies meet the needs of a multi-faceted workforce. But with the rise in hybrid working, those strategies are being reviewed and reinvented to reflect a new era of working life, with some more enthusiastic than others about the change. We're taking a look at how the attitudes of different generations have changed after a year of doing the job from home – and how that impacts design.
PRE-PANDEMIC
"Flexi-time" was already on the rise as data from the Office of National Statistics revealed that the number of UK workers who had moved into remote working had increased by nearly a quarter of a million in over a decade. More recent research from the CIPD shows employers expect that the proportion of people working from home on a regular basis once the crisis is over will increase to 37% compared to 18% before the pandemic. According to a recent survey of 1,000 office workers by Hubble HQ, only 7.4% of Gen Zs would like to work remotely every day. This statistic rises to 14% for Millennials and 20% for both Baby Boomers and Generation X who would prefer to work from home 3-4 times a week.  A clear indication that flexibility remains key.
"In general, Gen Z is the most 'pro-office' age group—whilst Gen X and Baby Boomers are the most 'pro-remote'. The different generations value certain elements of office life more than others." – Hubble HQ.
One-third of Gen Zs have described the impact of the pandemic as being "extremely negative" which is double that of Baby Boomers. The global crisis has set many young people back as they transition into adulthood, altering their perspectives on relationships, health and working life, and causing them to re-evaluate their immediate and future priorities as a result. When it comes to the workplace, young people thrive from face-to-face communication, support and the social aspect of being part of a team. They too are the ones most likely to benefit from work perks – the free coffee machine, weekly team lunches, gym discounts or on-site facilities. During lockdown, most Gen Zs have been flat-sharing or still living at home, working from a less productive and sometimes more chaotic set-up than the office. Despite the financial savings they've made, they're looking forward to getting back to the office.
Step into the shoes of a Baby Boomer and the data suggests that you might feel otherwise. Less time and money spent commuting, naturally, has led to a happier work-life balance. While caring responsibilities have been demanding during the pandemic, many Boomers cite that spending more time with loved ones and having flexibility around childcare is what they like most about home-working. Often more financially stable, Boomers have been able to convert spare rooms and build garden offices. They're in no rush to get back to the office if they can work just as effectively from home.
Millennials, who make up around 50% of the workforce, sit somewhere in the middle. Despite being more productive at home and being able to focus better than the other comparative age groups, Millennials are too uncomfortable to stay there for too long. Ergonomic chairs and desks are higher on their wishlist than any other generation suggesting that they have been getting by without financing home improvements. They claim that permanently working from home has affected physical wellness and in fact they missed workplace fitness classes more than both other age groups. While it seems they can achieve more from home, the long-term effect on wellness means they are looking to balance their time between there and the office.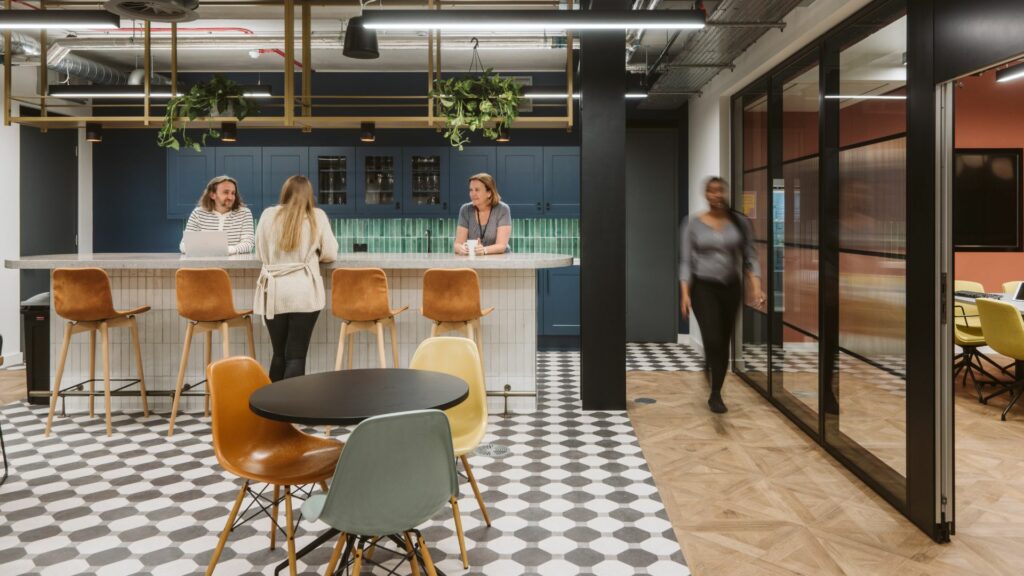 THE ROLE OF THE OFFICE
A report by Leesman Index from 2017 delves into the true value of the workplace in relation to job complexity. Then, Leesman suggested that designing an office to suit staff in their 40s rather than in their 20s was key. We're now experiencing interesting times that challenge such statements. As middle and senior management have realised they can manage more of their responsibilities from home, recent data suggests that the office may now be of more value to younger individuals.
Office design may need to follow suit, providing the younger demographic with a place to learn, collaborate and be seen, meanwhile offering others a workplace experience to rival their homes and boost wellbeing. Catered restaurants, lounges, gyms, and even spin studios are all exciting possibilities that are rapidly being explored within workplace design. Employees will look to tie in their days at the office with time spent socialising with friends and colleagues, soaking up the City's food and drink offerings out of office hours. Location will continue to be key for all ages, both for appealing local amenities and ease of commute.
THE ROLE OF HOME
Where does this leave the role of home in this new hybrid era? Following a survey of 1000 employees, more than 75% of every age group said that if they're not working in the office, they would rather work from home than a coffee shop, co-working space, beach or other location. One thing all age groups can agree on is that they haven't missed the commute so it's understandable that they're no more likely to catch a bus to a trendy café than they are to the office. People have found new routines in the comfort of their own homes that benefit their well-being. Working remotely is less about finding hipster alternatives to the office, and more about wanting to stay put in your personal space.
MENTAL HEALTH REMAINS A PRIORITY
According to Group Risk Development (Grid) employers are most worried about the mental health of Baby Boomers, 26% of whom say that stress related to home life, such as caring responsibilities and relationships, is a top concern. This is compared to 24% for Generation X, 20% for Millennials and only 17% for Generation Z. We delve further into how companies can build good mental health into their DNA in our recent blog here.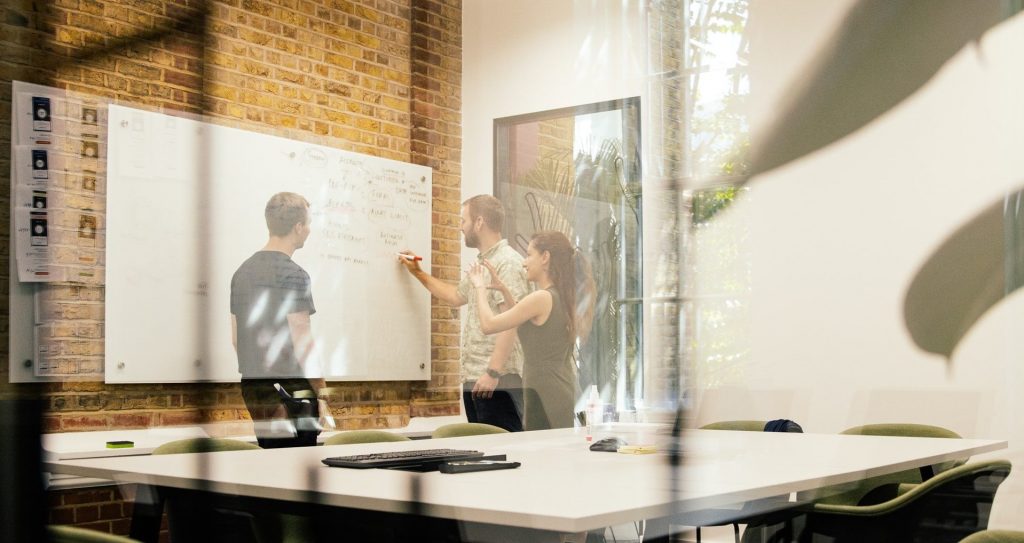 SUPPORTING EVERY DEMOGRAPHIC
Each generation has played a pivotal role in changing the ways in which we work. Baby Boomers and Millennials drove the change from cubicle farms through to open plan, whilst the latter has inspired and witnessed a new focus on workplace culture. While Millennials have forged the path towards flexible working to the extent that the government recently tabled the idea of a 'default right to work from home', Gen Z are championing the office and the value it brings, especially to early professional life. The demands of a new generation, catalysed by a pandemic, make commercial interior design more challenging and exciting than ever as we seek to define what work will look like in the next few years and far beyond.
As we continue to navigate through unknown times, the best form of support employers can offer employees is to listen and empathise with their individual needs. There is no one-size-fits-all solution after all.
Our workplace consultants are experts in cultural analysis and developing personas that reflect the people in your business so that you can design a space that will bring the best out in them. If you're thinking about introducing hybrid working to your business or need to assess your workplace, get in touch with our team today and see how we can help you.